Chris
Good case study showing 10x time savings w/Big Data methods:  Why Sears Is Going All-In On Hadoop – Global-cio – Executive http://ow.ly/g1xYS
In the article the CTO gives some good, but potentially contradictory advice about making these kinds of changes.
"You have to go fast and be bold without taking stupid risks," Shelley says. Start with a business need "that causes enough pain that people will notice and they'll see tangible benefits."
Shelley, by saying to be fast and bold is not saying to be irrational or recommending taking unnecessary risk. But, I think he is saying to be a leader, create a vision of what can be done, create a plan for application that is bite sized and can create quick value. That allows it to be quick. The impact it promises is bold.
You have probably seen highly charged atmospheres in companies where the executive team has decided that the company must have a Big Data strategy. Those tasked with then putting it together feel this pressure to prepare an impressive plan that represents a big leap and a lot of investment. It's similar to what happened in the 90's with CRM and then what happened right around the 2000 mark with the Internet. Faced with the rising wave of interest and investor questions, companies risk making knee-jerk reactions which all too often result in corporate and personal disaster.  Big Data is on the same trajectory. We see it in our everyday conversations with others, in the press and promotional arena. It has also been shown in the Gartner "Hype Cycle" for 2012 — http://www.infoq.com/news/2012/08/Gartner-Hype-Cycle-2012.
Leveraging Big Data in your company does not have to be mysterious, intimidating or expensive. There are different ways to approach the elephant — and as the adage goes, maybe the best way it to take it one piece at a time to digest it properly and align it within the organization.
One approach I'd recommend is doing what I call the 3-V Application Value analysis. This is where you assess the specific Big Data that you have access to and then look at the differences that Big Data offers from what data, analyses and resulting applications you currently use. Do this by each of the V's that define Big Data: Velocity, Volume and Variety. This leads to an opportunities and costs analysis that will then be the basis of a plan of action. This is a reasoned approach to getting the best value out of your investment in Big Data.
For instance, let's take Velocity. What is it that is different about Big Data because of Velocity? And, when looking at the form of Big Data you have access to, what does that imply for the applications you could build? A very high level assessment is where you would start and it may look something like this:
Opportunities. The opportunities that come from high velocity data include the development of real time or more immediately updating applications. These might be

New and more relevant executive dashboards
Tools that allow you to make adjustments to engagement campaigns while they are executing
Development of individualized recommendation systems
Quickly identifying product quality issues
Better capitalizing on unforeseen benefits or uses of your product or service
Costs. The costs of taking advantage of these opportunities would be driven by a number of factors, including:

Instituting new layers of data connectivity
Building machine learning and continual statistical processes layers
Designing and implementing real time reporting and simulation tools
The benefit of this kind of approach is the creation of a rational framework for advocating specific kinds of Big Data investment. A team can examine the detailed differences between existing data being used and Big Data, link those to potential new analyses or applications, and tie them to specific investments. The contrasting and incremental nature of this approach takes the mystery out of Big Data by relating it to what you have experience with and providing a stepping-stone approach that builds on strengths and ensures investments will be made with confidence and less risk.
We Can Shape the Value of Our Own Big Data (http://www.linkedin.com/today/post/article/20121128080040-1816165-social-local-mobile-s-real-promise-more-data)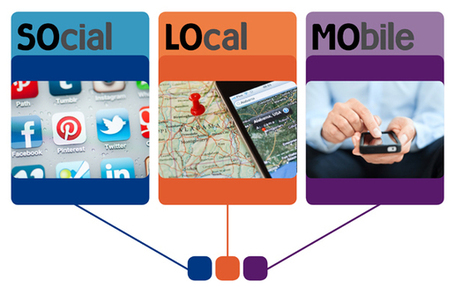 In a recently trending LinkedIn article by David Edelman at McKinsey, I commented in a way that bears on Analytics Leadership in Big Data. The article and associated video focus on the great potential of SoLoMo (Social, Local and Mobile) opportunity and data. We can get the most from this data if we are not just reactive to it — but if we assertively acknowledge its use and plan for its application we can multiply that value. Using our knowledge of what value can come from the analytics gives us the power to influence and shape our marketing strategy so that we build, integrate and use SoLoMo data streams as part of how we drive Big Data value. We can help build that vision. Follow me on Twitter @AnalyticMind and view my profile on Linkedin: www.linkedin.com/in/christophergdiener
My comments on the article:
David's video and comments really hit the mark. We often talk about the consumer purchase journey in terms of the process that a consumer is wrapped in as they experience a brand and make a purchase in the context of that experience. It used to be quite linear, but now has many strong feedback loops, such that a consumer can experience multiple "stages" at one time and can influence others' journey's more strongly and at multiple points.
With the growth of SoLoMo, we can now act on another dimension of the journey with much greater effectiveness. This dimension is defined by geographic distance and frequency. It's like a whole new take on a gravity model. We can define concentric zones going out away from the product location and for each band of circle for a given level of frequency we can tailor specific interactions and implement appropriate strategies to help the consumer see the value of getting closer to the product. For new customers, in brick and mortar retail, the key is to first have folks physically introduce the behavior or experience of going to a location; then it is in creating familiarity and routine within that location. For existing customers, it's critical to deepen the value of frequent physical proximity – socially, emotionally and rationally.
SoLoMo data truly is and will become gold to many organizations that not only know how to mine this new mountain, but also in how they mold the mountain in the first place through strategic planning to create the most valuable data streams for analysis. This is a prime example of how Big Data is not a reactive situation and how getting the most from Big Data analytics depends on more than just knowledge discovery analytics. If we bring frameworks of directed analytics to this kind of data, like applying a form of geography/frequency gravity model, in the context of specifically designed communications strategies we can truly uncover revolutionary gains in customer loyalty.
"Big Data" Etymology from Peter Wayner:
The industry now has a buzzword, "big data," for how we're going to do something with the huge amount of information piling up. "Big data" is replacing "business intelligence," which subsumed "reporting," which put a nicer gloss on "spreadsheets," which beat out the old-fashioned "printouts." Managers who long ago studied printouts are now hiring mathematicians who claim to be big data specialists to help them solve the same old problem: What's selling and why?
via 7 top tools for taming big data | Business Intelligence – InfoWorld.
As the first post in on this blog, welcome! For a few weeks it will be a work in progress as I get set up and connect all the pieces together between LinkedIn and Twitter and maybe other services.
The basic idea behind this blog is to be a forum and resource for applying analytics in a way that creates or builds leadership. Leadership can manifest in many ways on personal, organization and market levels. The intelligent use of analytics can propel a company to market share, loyalty, positioning and profitability leadership. By understanding how to effectively harness and build analytics capabilities and applications within an organization, you can increase your effectiveness, visibility and opportunity. The views I express on this blog are my own, but based on the great ideas and influences of others, of course.